Cameraboys.com Site Review
Find the Hottest Camboys Online
As the suggests, CameraBoys is the ideal platform for anyone looking to live cam shows of men. Upon entering the site, you'll be notified that it contains sexually explicit materials and must be 18+ to enter the site. CameraBoys hosts some of the hottest guys you'll find on the internet. Most of the guys have muscular bodies which they show off at every given opportunity. If you are a girl or gay who's into muscular guys, you would definitely love what you see at CameraBoys. And if you are into guys with lean physiques, you will find them too on the site. Upon arriving at the site, you'll see many different thumbnails of models on the homepage. Under the thumbnails, you will see those that are online, offline, and those that are currently having a private chat with other users. These Camboys are streaming live from different locations around the world. Also, the guys are of different racial backgrounds. So whether you're into white guys, black dudes, Latino guys, or Asian guys, you'll find them all at CameraBoys.
More sites like: Cameraboys.com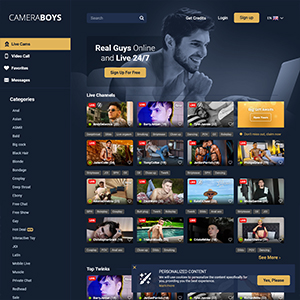 Enjoy Free Webcam Shows
It's not everyday you come across a site where you can stream live XXX shows of cute guys for free. CameraBoys allows you to stream all the available shows for free. All you have to do is browse through the multitudes of camboys until you find one that you'd like to stream. Once you click the thumbnail of the model, the live show would start playing automatically. You don't have to pay for any subscription to enjoy the amazing content of the site. In fact, you don't even have to be a registered member of the platform to stream any live cam show of your choice. However, signing up for a free account on the platform will give you some edge over unregistered users. With a user account, you'll be able to chat with any of the camboys. To signup on the site is a very straightforward process, you only need to enter your username, password, and email. Once you do that, your free free account would be created instantly.
Take it a Step Further With Video Calls and Private Shows
At CameraBoys, not only can you stream live webcam shows but you can also have video call with the handsome models. With a video call, both of you can see each other in real-time and you can share all your naughty thoughts with the models. Aside from video calls, you can also have private chats with the models. The private shows are perfect if you want to get more personal with the models. Assuming you come across a model whose public performance you enjoy, you can request for a private show from the model. However, private shows usually requires credits. The site has a credit system where you'll need some to access special features on the platform. The credits are sold at different prices, depending on the amount you wish to purchase. The site accepts multiple payment methods for purchasing credits.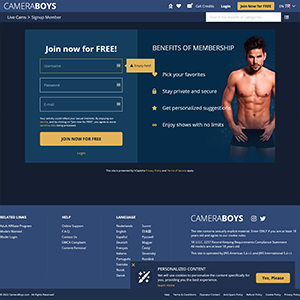 Pros and Cons for: Cameraboys.com
Massive collection of models
Cute guys with amazing builds
Multi-device compatible
User-friendly platform
Enjoy ads-free experience
You need to become a registered member before you can see the prices credits are sold
Conclusion on Cameraboys.com
At CameraBoys, finding what you want is only a few clicks away. Instead of manually browsing through the massive content, the site has a special search feature which allows you to filter the available content according to your preferences. With this feature, you can filter the models by factors like language, age, status, ethnicity, build, penis size, hair color, hair type, and willingness. With these, finding what you need is a breeze.