Chaturbate.com Site Review
A Leading Platform for Webcam Porn
How many times have you wondered where the best jerk-off material is? It is a question a lot of wankers worldwide would like to get an answer for. The answer in this case is fairly easy if you have done enough research. Chaturbate is a website that gives you an experience that you have always looked for. The website is one of the most popular live cam websites on the internet. Its ease of use and ability to attract new talent through a very simple process makes it one of the most successful websites for men's and women's sexual satisfaction.
More sites like: Chaturbate.com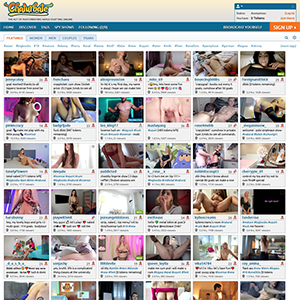 What Can I Find on Chaturbate?
The options this website offers are numerous and really make its users intrigued for long hours of browsing throughout. Once a user visits the website, the home page shows a list of models who are online and live. The user can browse through the page, choose a performer, and click on his/her profile picture to be taken to their room. There are many things to do in the room. Chatting with the model is one of the possibilities and interacting with them is also possible. Viewers can request acts from the performer, ask them questions, or simply compliment them or their show. These are all free options that the website offers. Creating an account on Chaturbate is fairly easy and will not take more than a couple of minutes of your time. It is also free of charge and upgrades to premium memberships are possible with a fee. There is also a tags page that includes a large number of tags that possibly include every sexual preference or kink that viewers might have. Clicking on any of these tags links the user to the rooms where these tags are reflected in the performer's show.
Variety of Options for Members
There are a ton of options for members who join Chaturbate. Especially those who are willing to throw some bucks to have a good time. Members can purchase tokens from a list of packages that they can then use for a variety of fun things. Tipping the performers is one of them in addition to having personal live sessions with them. Once you request a private show from a performer, you can pay them the number of tokens they charge and can then proceed to begin the show. The cheaper option would be private chats where you could have a talk with the performer and maybe they would tease you to make you want a full private show. One of the perks of being a member of Chaturbate is that members can start broadcasting their own cam shows and start earning tokens from viewers. It is very easy to do that and the member does not need to go through any hiring process.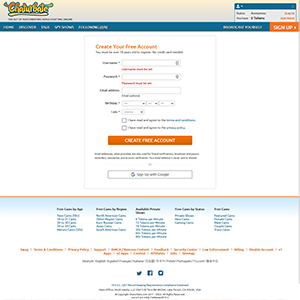 Pros and Cons for: Chaturbate.com
The website is easy to use and navigate
Tokens can be purchased inexpensively
Variety of models to choose from
Rooms are often filled with viewers so it's difficult to get a performer's attention
Conclusion on Chaturbate.com
The good news for members who want to purchase tokens and join the fun is that the price for token packages is relatively lower than other websites. Keeping in mind that Chaturbate offers a higher diversity of models, this is probably the best deal one can find on the internet. The price for 50 tokens is $5.99 and the price of 400 tokens is $40.99 which brings the price per token even lower. Therefore, it's always advisable for wankers to buy the bigger package in order to save some money. It's also very easy to proceed to payment through a number of payment options the website provides. Credit card is accepted. PayPal, wire transfers and even cryptocurrency are also accepted.