Dxlive.com Site Review
What is DxLive All About?
DxLive is a cam streaming platform where porn lovers can enjoy the most sensual cam shows. The site has thousands of registered models located in different countries around the world. Upon arriving at the site, you'll see the number of models who are online as well as those who are currently in session. Beneath that, you will find different thumbnails of cam girls. Under each thumbnail, you will find the username of the model as well as her location. When you click any of these thumbnails, you'll be redirected to the streaming page of the model. And once you are on the streaming page of the model, the cam show will start playing automatically. Also on the streaming page, you will find some details about the model such as her age, body size, language, and a brief description of her. You will also find several photo shots of the model which you can view.
More sites like: Dxlive.com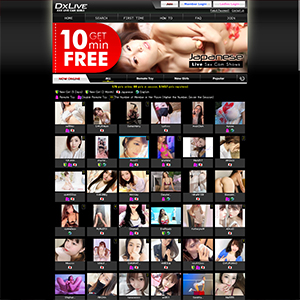 Find the Perfect Girl and Take Your Adventure to the Next Level
The girls at DxLive are very beautiful and sexy. You will find those with huge tits as well as those with medium-sized tits. And if you have a thing for ladies with a big ass, you'll find them too on the site. When it comes to pleasing viewers, the girls at DxLive have all it takes. You will see them touching themselves in all the right places. These ladies will keep you glued to your device all day with their sensual moves. You will get turned on instantly watching these girls on your device. And if you'd like to take your adventure to the next level, you can engage the girls in a one-on-one chat. With a private chat, you can get more intimate with the girls and ask them any questions that you like. You can also compliment them on how sexy and irresistible they look, they would surely love that.
Stream Available Cams for Free
One of the things that will make you fall in love with DxLive is the free cam streams. You don't have to subscribe to a paid membership plan to stream the live shows. Also, you don't necessarily have to create an account on the site to stream the cams. However, your access to the site would be limited as an unregistered user. The site uses a point-based system where users need to spend points to access certain features. For example, if you want to access advanced features on the platform like private chats with the models, you need to have some points that you can use. The 1 on 1 private chat costs 2.2 points per minute. You can have private chats for as long as you want, but you must have enough points for that. To purchase points on the site, you can use your MasterCard, VISA, JCB, or Diners Club. Once your payment is processed, the points will be credited to your account instantly.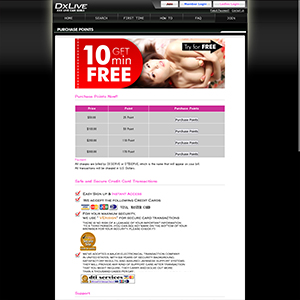 Pros and Cons for: Dxlive.com
100% amateur content
You will always find cam girls online anytime you visit the site
Smooth browsing experience
The site's design looks old
Conclusion on Dxlive.com
Although DxLive doesn't have a modern look, it is very easy to navigate. You'll find different navigation buttons that can be used to explore the platform. Another thing worth talking about is the compatibility of the site. DxLive is compatible with smartphones, tablets, and PC. In addition, you can access the site from anywhere you are in the world. Finally, you won't come across any annoying ads while browsing the site. You will have a smooth experience all through.